Pimento Cheese Spread Recipe from the Family!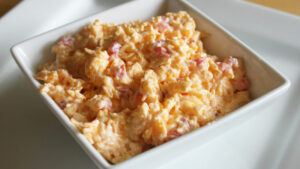 Being from the south we used to eat Pimento Cheese spread on just about anything.  There are many different ways to make this iconic spread however the one that is served at August National Golf Club is by far the best.
1/2 C mayonnaise
2 tbsp cream cheese softened
1 tsp lemon juice
1 tsp Worcestershire sauce
1/4 tsp cayenne pepper
Dash of hot sauce
1 lbs yellow sharp cheddar cheese
1/3 C pimentos, patted dray and minced
Mix the mayonnaise and cream cheese, lemon juice, Worcestershire, cayenne and hot sauce together.  Shred the cheddar cheese.  Combine cheese and pimentos into the mayonnaise mixture and mix until combined.  Serve with crackers or vegetables.
Enjoy! #FoodisLove